12/08/2016
Kawasaki Powers up with Cesab
The Kawasaki Company was founded in Japan in 1896, manufacturing marine steam turbines, locomotives, freight cars, passenger carriages, bridge girders and the country's rst metal aircraft.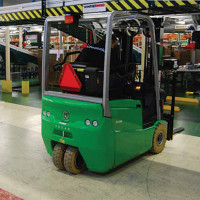 The company, which produced its first motorcycle in 1954, currently employs 30,000 people worldwide. Kawasaki's European Distribution Centre in Vianen stocks around 70,000 motorcycle, jet-ski and utility vehicle parts and accessories. Productivity and safety are critical at the 15,000 m2 centre, which sends out around 350,000 parcels and receives 2,000 shipments every year.
With people and equipment loading, unloading and manoeuvring thousands of parts on a daily basis, materials handling equipment is a crucial part of an efficient and safe operation.
Visibility and manoeuvrability are key requirements of any equipment at Vianen, where operators need to see clearly all around them to ensure safe operations, as well as manoeuvre the trucks under the low heights created by the overhead conveyor systems.
Kawasaki has worked with Netherlands CESAB dealership Sanders Heftrucks for over 15 years and when it decided to upgrade its materials handling fleet, it asked Sanders' sales manager Bas van den Heuvel for advice on equipment that would improve productivity on site. Mr van den Heuvel recommended a CESAB P320 powered pallet truck and a Cesab B316 three wheel counterbalanced forklift.
Part of the Cesab P300 range, the Cesab P320 powered pallet truck is one of the most manoeuvrable and productive powered pallet trucks on the market. Used to manoeuvre pallets around the centre's mezzanine floor and handle larger parts such as gas tanks, frames and exhaust systems, its low height and wide chassis deliver excellent all round visibility and manoeuvrability.